Chaplaincy
"Your word is a lamp to my feet and a light to my path." Psalm 119:105
Samantha Alder and Reader Paul lead the chaplaincy team in Trinity.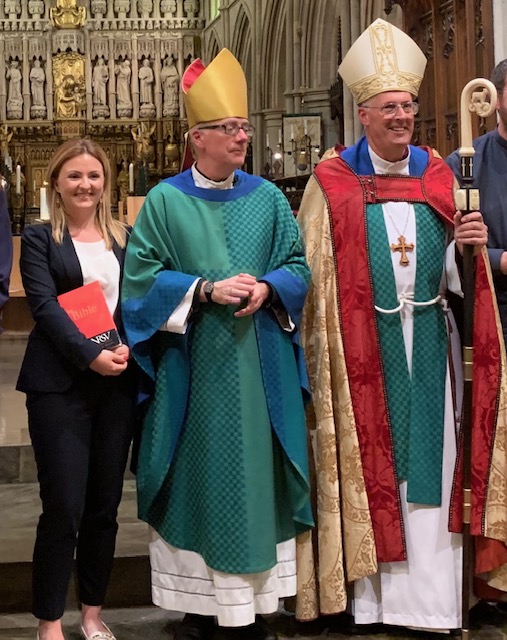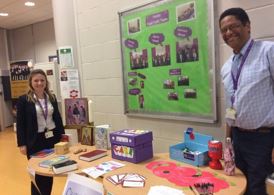 We work to ensure that our ethos underpins all we do in school, primarily through planning, resourcing and leading worship. In our worship we learn about our Christian stories and reflect on a theme which connects to our lives. At the Secondary site this is with the whole school on Monday and in our year groups / family groups on the other days in the week. On the other days of the week all pupils have the opportunity to worship and read Bible passages. In the Primary we meet every day to join in Collective Worship. Our worship throughout the school includes times of silence, singing and celebrations of school life. We have a half termly theme which links to key Christian Values and our Trinity characteristics and we also have weekly competitions based on the current theme at both the primary and secondary site. Worship is planned and led by many in our Trinity family, including students, staff and visitors from our local churches. Daily Worship at both sites rehearses positive relationships and themes in worship highlight this, for example 'angels week' focusses staff and students on how we can be more angelic to each other.

The Eucharist is celebrated regularly at both the primary and secondary site, this year we are having our first through school Eucharist for advent where our year 6 pupils will join our secondary pupils. Eucharist happens termly at the secondary site, in addition we also hold other services such as the year 7 welcome service, the through school carol service and harvest festival services.

We have excellent connections and relationships with our Parish Churches. The Secondary school regularly go to our Parish Church of The Good Shepherd for occasional RE learning and worship. The Primary also attend their Parish Church of St Swithun's for relevant RE lessons and for worship.
As a chaplaincy team we offer pastoral support to our Trinity Family. We are available especially for individuals who require additional support, comfort, space for reflection, a listening ear or someone to pray with them in times of crisis. We have bespoke chapel at our primary site and several prayer and reflection spaces at our secondary site.
We are also currently running the following opportunities for our pupils:
Christian union every Thursday after school - secondary site.
Chaplaincy lunch drop-in - this is run by a variety of youth leaders, vicars, pastors and priests. This is run every Thursday between 12h50 and 13h30 at the secondary site
Secondary trip to Taize
At the primary on a Monday all pupils have the opportunity receive chaplaincy support, read the Bible and write prayers with the Chaplain and additional support occurs within the school week

We have an active pupil faith team at both the primary and secondary sites, pupils meet weekly to focus on worship, outreach and charity work. The faith team provides an opportunity for pupils to actively engage with their faith and demonstrate courageous advocacy in the local and national community.

As a school we have been begun to create relationships with the Helping Hands Foodbank and are now working to become a Dementia Friendly School. Our secondary pupils have been completing the Alzheimer's society dementia friendly programme.
We are confident in our identity as a Church of England School but we are also inclusive and have a multi-faith prayer room which our pupils actively use. We welcome engagement with our diverse community who are encouraged to share their stories of life, faith and belief.
If you wish to contact our chaplain directly please do email Ms Alder on the following email:
s.alder@trinity.lewisham.sch.uk