Home
Start of Term arrangements
All pupils should return to school on Thursday 17th September. We have worked hard to make sure our school is ready for all pupils to return and a detailed letter was sent to all families in July. We will be having different start and end times for each year groups as well as different entry points. Every entrance and every classroom has a wall mounted hand sanitiser that pupils will be required to use. Each year group is a separate bubble and will be kept apart from other year groups - which is why it is vital that pupils arrive at the correct time window and at the correct entrance. We have detailed plans to ensure pupils get their break and lunch times without mixing between bubbles as well - again this was explained in all the letters that we sent out at the end of last term. Please click here for a copy of the specific detailed letters that were sent out.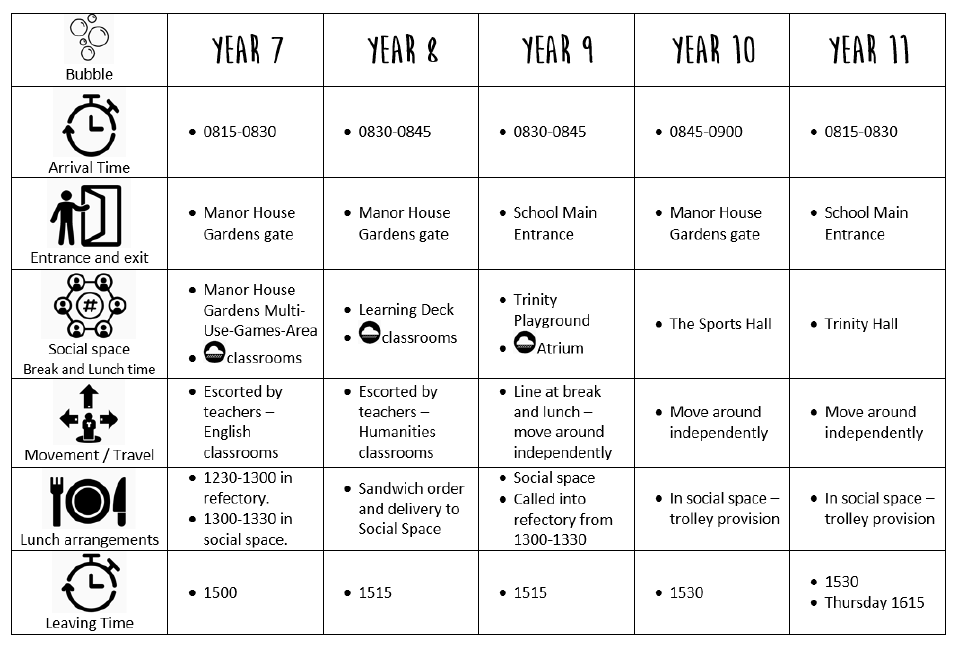 Face coverings
As a result of the Government's announcement on 25th August and as an extension to our risk assessment we are adding a plain face mask to our school uniform requirements at the secondary phase. They should be black, blue or grey with no patterns and is another measure we think is appropriate at this time to support our safe environment. They should only be worn in social spaces within the building. It is vital they are taken off at classroom doors, placed safely away and then hands sanitised before entering a classroom. We have hand sanitiser machines outside every room. Pupils will also take them off to eat. It is vital they sanitise their hands after touching their mask. Please do also make sure that your child has a suitable face covering for travelling on public transport.
Pupils must have their own mask and these should be changed or washed frequently. Please follow this link from Health England explains how to wear masks - https://www.gov.uk/government/publications/face-coverings-when-to-wear-one-and-how-to-make-your-own/face-coverings-when-to-wear-one-and-how-to-make-your-own
If you think you have a medical condition that exempts you from wearing a face covering please contact your Head of Year.
Exam results 2020
We are extremely proud of all our pupils. It has been a challenging year for all of us, but particularly so for those on their journey towards the exams that are crucial for their progression towards their chosen career path. Our pupils are encouraged to have high expectations of themselves and we work hard in building pupils confidence and aspirations. To support the schools grading of our pupils their work during the past two years had to be taken into account and their progress and attainment across a wide variety of evidence. The results are exceptional. There will not be any performance tables this year, due to the circumstances we are in, but we wish to share with you some of our individual stories that will help you understand how amazing our pupils are. They truly are Terrific Trinitarians - of which we will not be able to express all their results, but a selection to show our comprehensive nature.
Our highest performing pupil has 10 grade 9's, one for every subject he studied. This is the highest grade you can get and is only awarded to the top 3% nationally in each individual subject. This includes English Language, English Literature, Maths, Biology, Chemistry, Physics, Computer Science, French, Geography and RE. He also achieved a Distinction* in Engineering as well as an A* in Additional Maths and an A* in Latin during year 10.
We had another pupil gain 9 grade 9's, a Grade A* in Additional Maths and Latin as well as 1 grade 8. Pupils tend to get exceptionally high grades in one or several similar subjects, not often across the majority of subjects.
A further pupil gained 8 grade 9's with a further 2 qualifications at grade 8 (grade 7 is classed as a grade A).
We had a further 13 pupils who gained at least one grade 9 and a mixture of grade 8 and 7's.
Around 25% of pupils gained a grade 7 (grade A) or higher in English and Maths. We have a mixture of abilities at Trinity and all worked hard to achieve their highest grades. Grade 5 is classed as a good pass (high grade C / Low grade B) - we had over 60% achieving this across all their subjects and also over 80% of pupils gain a standard pass (grade 4, which is a low C) across their subjects – this is above that announced national average today. We have pupils that also struggle academically at school and these also achieved the grades required to secure their progression onto courses post 16.
All pupils have gained qualifications to progress into year 12. Our careers guidance and advice team have worked hard to ensure all our pupils have places offered and will continue to follow them on their continued journey.
We would also like to celebrate the achievements of pupils who left us 2 years ago and went off to sixth form and are now preparing for university.
Amongst those wonderful successes of pupils going on to Higher Education are Charlie Taylor who left Trinity with a Maths scholarship for Sixth Form to Babington College. Charlie achieved amazing A Level results A*A*A and is now going on to do a degree apprenticeship in Electronic Engineering with a company called Thales. Charlie will do his BSc in Electronic Engineering with Southbank University whilst working with Thales in their Stratford office. This opportunity pays a salary as well as sponsoring his university fees.
Congratulations to Ezra Standing who, having achieved A*A*B at A Level, has secured a place at Durham University.
Trinity is also immensely proud of our two Oxbridge candidates. Juan Garcia Valencia achieved A*A*A* A in his A Levels and is starting at St Hilda's College, Oxford to read Geography.
Joash Hanciles achieved A*A*A and goes on to read Classics at Cambridge.
We wish all our alumni the best of luck and look forward to hearing from them in the future and having them return to Trinity to inspire our pupils to work hard and aspire to be the very best they can be.
Welcome to Trinity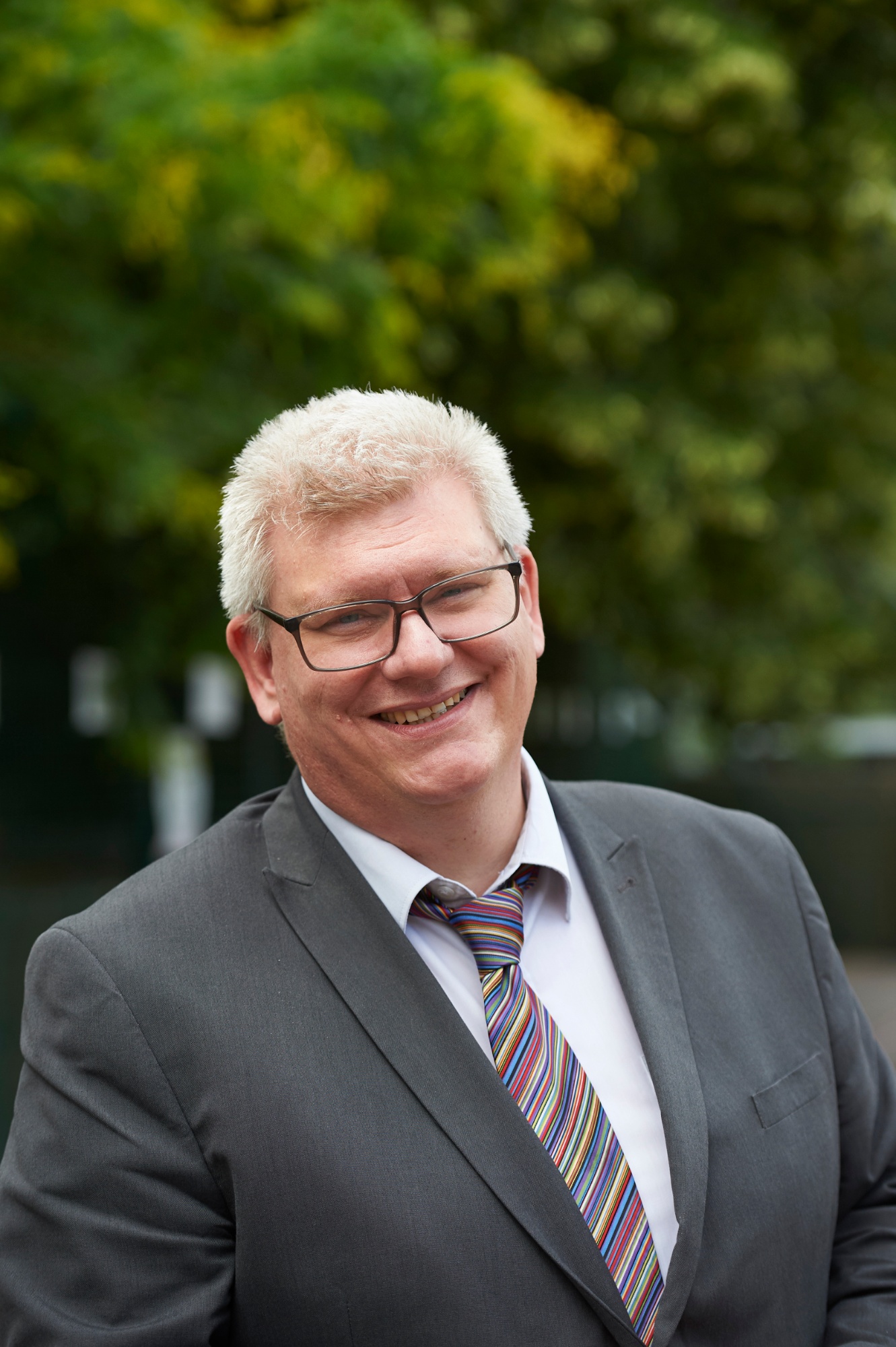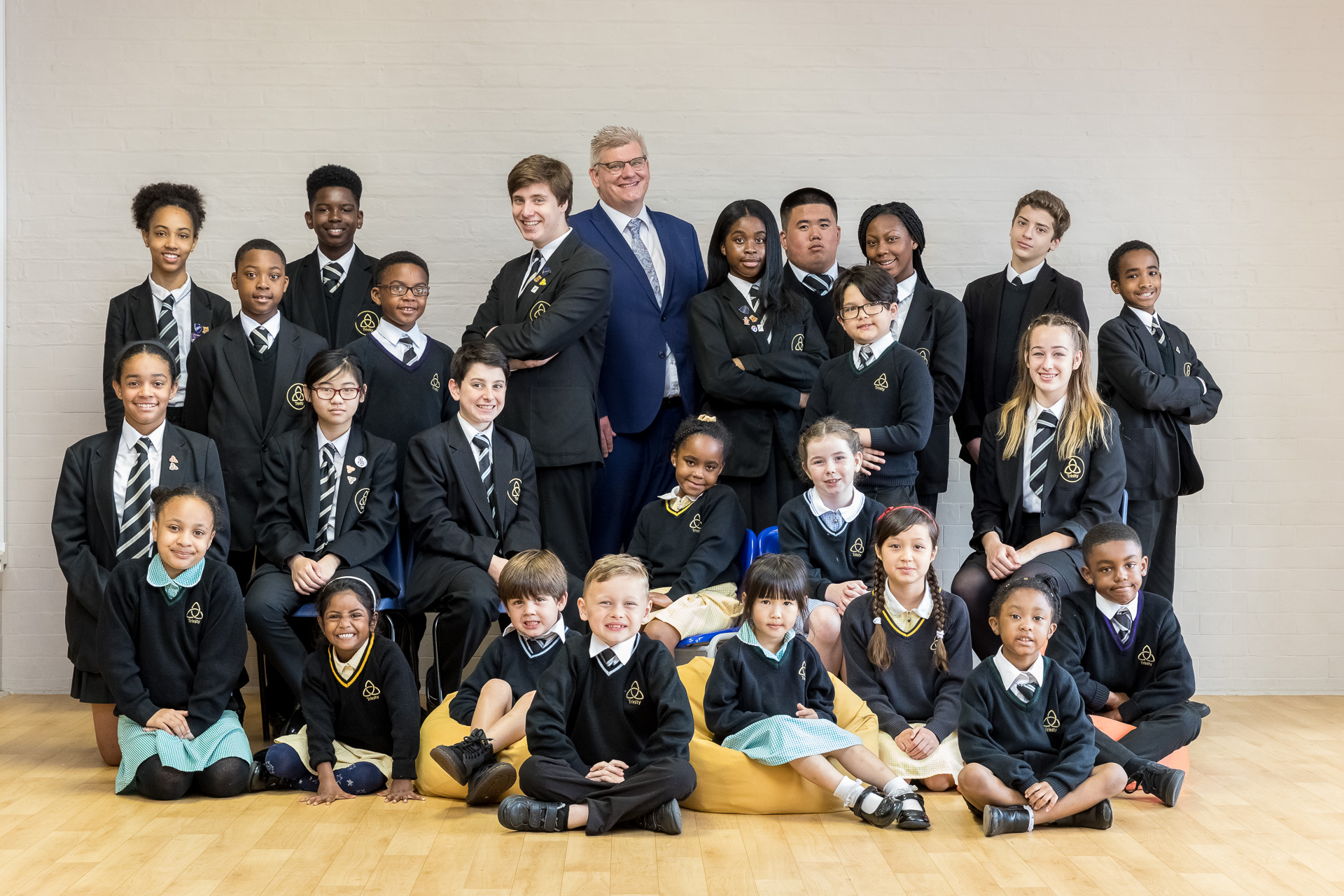 I am very proud to address you as Executive Headteacher of this unique 'all-through' school. Trinity is a warm, welcoming, friendly school where all pupils are happy learners. Your child is the most important person to you and to us. Every child deserves the best possible start in life and nothing is more important than a good education. Here at Trinity we aim to provide a world class education for all our pupils regardless of the age or stage at which they join us. Our learners range from 4 to 16 years and are across two sites. The Primary site is a refurbished Victorian building on Leahurst Road and the Secondary phase is in a contemporary new build on Taunton Road. Both have a state of the art new learning environment where pupils will all be provided with up to date learning experiences of the highest quality. Relationships at Trinity are strong and all learners are offered the best support, stretch and challenge to ensure success is everything they do.
We are an ambitious school and all our pupils are encouraged to think about the changing world around us, and how the skills they develop will equip them for a rapidly changing world. OFSTED 2016 graded the school 'Good' with 'Outstanding' features. SIAMS 2015 (the Statutory Inspection of Anglican and Methodist Schools) graded us as 'Outstanding' as the pastoral support and distinctiveness of the school ensured pupils progressed and flourished whilst at Trinity.
Attainment and achievement at Trinity has improved rapidly over the last 3 years and is now currently above National Average in most areas. Key stage 1 learners are also making great progress. Trinity now have pupils throughout the school from Year R to Year 11. The benefits of an us being an all-through school ensures that the curriculum is built across the Primary and Secondary phase, affording students continuity to develop through the secondary transition ensuring progress is continually achieved. We have a strong curriculum intent which ensures our pupils have a relevant, engaging and knowledge rich experience as they move through the school. Our distinctive knowledge organisers across the school equips all our pupils with the understanding and skills to progress through Trinity and beyond to the rest of their lives. The secondary phase accelerates the students and works closely with all the local post-16 providers to ensure their progression beyond Trinity is as smooth as possible and tailored to the individual needs of the pupils. Despite being based in the heart of our capital city, we pride ourselves on the fact that we maintain a village school ethos, providing a friendly and caring environment to our pupils, parents and staff.
As an oversubscribed popular school in Lewisham we work closely with families to give each individual the best chance. We aim to offer life enhancing experiences that will ignite curiosity and provide a platform for all our learners to pursue their aspirations. We aim to develop well-rounded children, both academically and socially, so you can feel confident that your child will get the best possible start in life. We place a strong emphasis on both the academic achievements and also equally on the character development of our pupils.
I hope that you find all of the information you require within the pages of this website. The school is an exciting place to be and should you wish to see us in action, please contact us for a visit.