Religious Education
Religious Education at Trinity is a core subject. Religious Education plays a central role in the spiritual, moral, cultural, social and mental development of each student at Trinity. All students study RE at KS3 and KS4, all students complete a full course GCSE in RE- AQA specification A. Our curriculum is both ambitious and inspirational and is defined by our local context, the Lewisham Agreed Syllabus and the Diocese. The locally agreed syllabus celebrates the diversity of religious and human experience. It encourages pupils to grow with the knowledge, skills, sensitivity and understanding, to develop as confident and productive members of their local multi-faith community and the world. Religious Education at Trinity plays an important part in our personal development days, for example 6th February 2020 our year 7 students will participate in 'The religious mapping of Lewisham Day' where all year 7 students will visit various local places of worship and learn about their importance in the local community including our local parish churches. We use booklets in Religious Education and all booklets are available for all pupils to access electronically on their TEAMS page as well as receiving a paper copy.
At Trinity Religious Education aims to:
Equip students with systematic knowledge and understanding of a range of religions and world views, enabling them to develop their ideas, values and identities
Help students to explore and learn from the beliefs of others, building understanding of those things which influence and motivate people today both worldwide and in Britain.
Give pupils a voice, an ability to develop their views and informed opinions in a safe environment where they can flourish and grow as national and global citizens.
Help students to explore their own beliefs, considering their basis and their implications and reflect on their own experiences
Develop students awareness of current issues facing humanity and support them in exploring their impact on their own lives and the lives of others
Our curriculum for the year 2021-2022 can be seen below: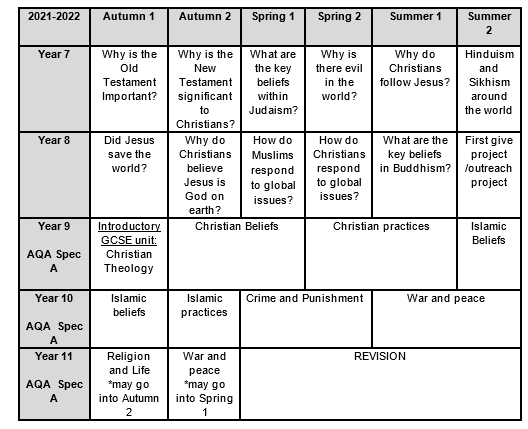 Booklet examples:
Sequencing and progression:
At Trinity, we use a spiral curriculum and build on the knowledge pupils have developed in RE since EYFS – Click on the link below to see the Trinity learning journey from EYFS – year 11.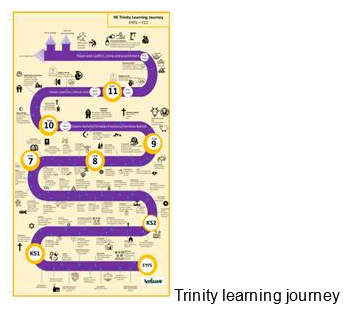 Building on the EYFS learning goals of understanding the world] we have developed a sequencing of learning that builds throughout pupils' time at Trinity. Our units are interleaved and follow a theme approach across KS3. All our units include tasks and opportunities to learn both about religion (AO1) and from religion (AO2) . We working closely with our primary colleagues to ensure the curriculum complements and further develops their prior knowledge. See below for how we distinguish between A01/A02.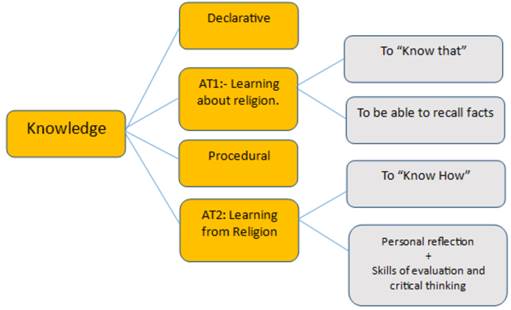 Knowledge Organisers
All pupils have a knowledge organiser, with bespoke pages directly linked to their current scheme of learning. This is available for pupils /parents to access on WEDUC.
Our knowledge organisers have been created using a combination of knowledge and vocabulary from the Southwark Diocese schemes of work, the locally agreed syllabus and the exam board guidance at KS4.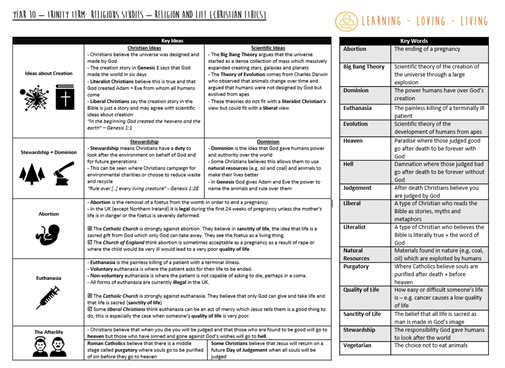 Assessment
Assessment of Religious Education is carried out termly assessments which interleave new knowledge an previous knowledge. The assessments are structured to assess both AT1 (what we learn about religion) and AT2 (what we learn from religion).
In year 7 and year 8 pupils additionally have mini assessed pieces which contribute to their grade.
Pupils receive feedback and clear guidance on what they have done well and how they can improve for their next assessment.