Religious Education

Intent
To deliver the RE specific objectives and aims set out in the Southwark Diocesan schemes of learning and by the SACRE agreed Syllabus.
Implementation
Through an enquiry based approach adapted from Discover RE, using the knowledge and vocabulary laid out in the Southwark Diocese and SACRE schemes of learning.
Impact
For our pupils to:
Become open minded learners who show compassion towards all individuals and proactively engage with other faiths and beliefs.
To have a strong moral compass and fight social injustice through becoming courageous advocates.
To have the knowledge and vocabulary to engage constructively with all faiths, evidenced through reflection essays.
Sequencing and Progression
Like our Wider Curriculum, our RE curriculum is built to offer opportunities for two types of knowledge acquisition: declarative (AT1– learning about religion) and procedural knowledge. (AT2– learning from religion)
Using a combination of Southwark Diocese Schemes of Work and Discovery RE, we have completed a detailed long term plan that ensures progression across each year group.
Each half term has a key theme across the school which is taught through a 'big question' in each year group.
During Christmas and Easter, we also have a key theme that underpins the teaching that happens during that half term. By revisiting this theme at these times of the year, we ensure that we are building upon prior knoweledge and helping them strengthen their schema.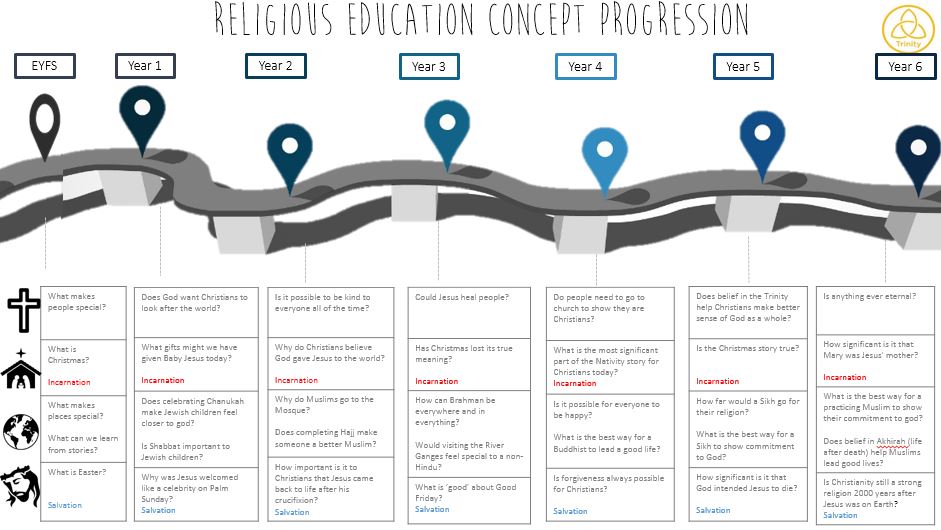 See the attachment below for this document.
Knowledge Organisers
Our Religious Education knowledge organisers have been created using a combination of knowledge and vocabulary from the Southwark Diocese schemes of work and enquiry skills from the Discovery RE scheme.
The key facts have been taken from the Southwark Diocese schemes of work and this is the content suggested that should be delivered in KS1 and KS2. The key vocabulary has been taken from the Southwark Diocese schemes of work and are the key terms that they suggest children should know in the Primary Phase.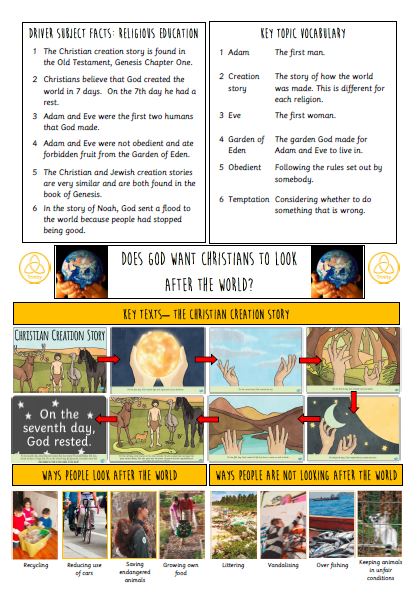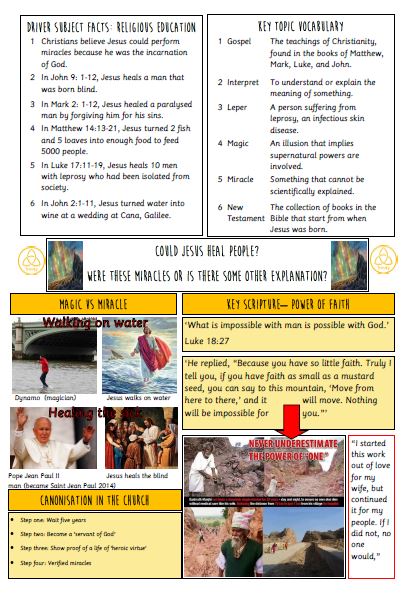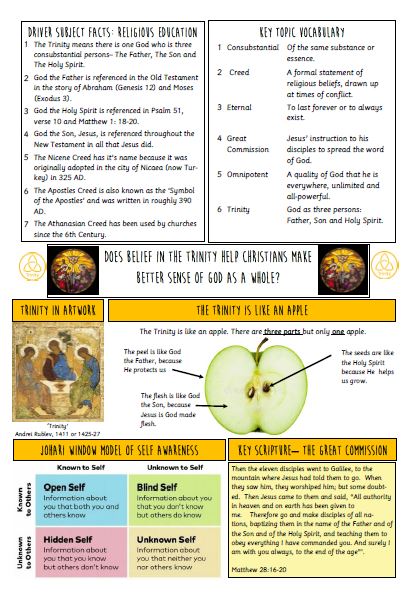 Assessment
Assessment of Religious Education is carried out through Assessment Essays that take place at the end of each half termly topic. Judgements are made using two forms of assessment:
Teacher judgement on contributions to the class throughout the half term
Pupil's responses to RE Essays against an assessment criteria
The essays are structured to assess both AT1 (what we learn about religion) and AT2 (what we learn from religion.
AT2 (personal)

Personal resonance with or reflection on:

The concept/ belief underlying the subject matter of the enquiry
Child's own thought, opinions, belief, empathy

AT1

Knowledge and understanding of the subject matter of that enquiry (subject knowledge)

AT2 (impersonal)

Skills of evaluation and critical thinking in relation to big enquiry question