Welcome by David Lucas - Executive Headteacher
I am very proud to address you as Executive Headteacher of this unique 'all-through' school. Trinity is a warm, welcoming, friendly school where all pupils are happy learners. Your child is the most important person to you and to us. Every child deserves the best possible start in life and nothing is more important than a good education. Please click HERE to see more.
---
Consultation on the timing of the school day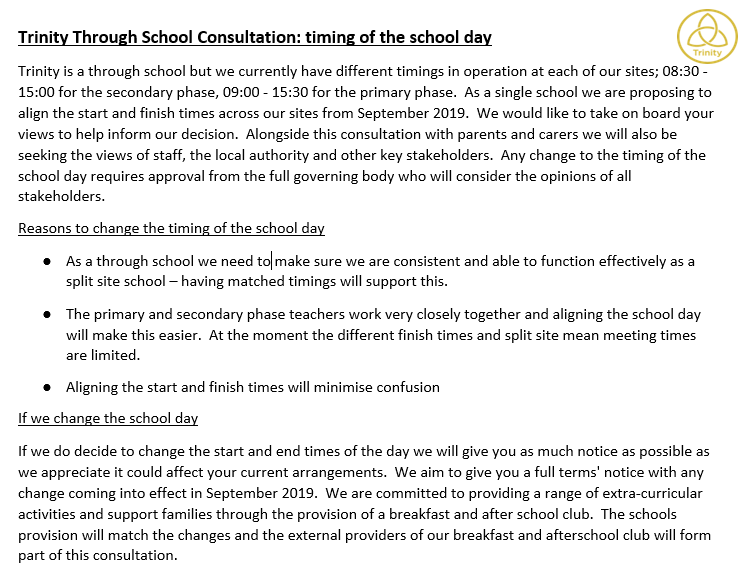 Copies of this consultation have gone out in the weekly newsletter and the primary phase parents have been given a copy to take home. This has also been emailed out to all parents. We have discussed this consultation with our wrap-around service (Young Explorers Club) and they have said they would be flexible and would adjust their timings to suit any changes made and any different requirements of the parents depending on demand.
To respond to this consultation please complete the form attached here and post it in the box at either the Primary or Secondary school reception desks. Alternatively please email your response directly to consultation@trinity.lewisham.sch.uk Deadline for response is 12 noon on Friday 8th February. All feedback will go to a full discussion that will take place at the next full governors meeting and any changes will be notified to parents as quickly as possible.
---
New Determined Admissions Policy
Consultation has now closed. The full governing body has reviewed all comments and determined its policy. Please see the Admissions tab for the updated policy.
---
Internet Safety - London Grid for Learning
Keep yourself safe when online! There are many documents to help parents manage online activity through the London Grid for Learning website. Click HERE for more information.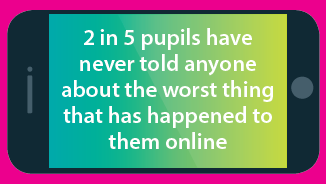 For additional information from National On-line Safety can also be found on their facebook page Facebook: https://www.facebook.com/NationalOnlineSafety/photos/a.1681508315488685/1914184988887682/?type=3&theater